Ex-England goalkeeper, Paul Robinson is sharing his thoughts with OLBG throughout the World Cup. Betting sites have France as slight favourites to beat England in 90 minutes. What does Paul think of Englands chances and how the game will pan out?
What is your England vs France prediction?
It will be a close game, both teams can cause each other damage. England should play to their strengths rather than protect their weaknesses, but they have to take Ousmane Dembele and Kylian Mbappe into consideration. France will probably do the same for the England front three.
It will be a draw after 90 minutes but I think England will win 1-0 in added time. Our bench has great game-changers in Marcus Rashford, Jack Grealish, Raheem Sterling and James Maddison that can come off the bench and score.
Is France one of the hardest games England have ever had in the World Cup at this stage? If they beat them, do they become favourites?
England can win the World Cup if they beat France, but you have to look at the strength of the other teams past France, such as Argentina and Brazil. Now France have Ngolo Kante, Paul Pogba and Karim Benzema injured, they're a different proposition. A win against France would be a statement.
France is undoubtedly the hardest game Gareth Southgate will have in his England managerial career. Obviously, we faced Italy in the Euros final but you look at the quality of that France team with Kylian Mbappe and Ousmane Dembele at this stage of the tournament, it does not come close.
Would you use the same team that performed brilliantly against Senegal or go to a back three which is more defensive?
The one change I would make in the starting XI is Kieran Trippier at left-back. It's harsh on Luke Shaw because he's had a fantastic tournament, but what Trippier offers you defensively outweighs what Luke Shaw gives you offensively. It's not just going to be Kylian Mbappe versus Kyle Walker, if Mbappe is struggling then France will put him on the other side against a slower player.
The front three of Phil Foden, Bukayo Saka and Harry Kane stays the same because of how well they played together. Despite Raheem Sterling coming back, he should stay on the bench.
Jordan Henderson was great against Senegal, despite people wanting him to be on the bench, should he play again or would you bring in someone else?
Jordan Henderson keeps his spot in the team. All the big calls Gareth Southgate has made like with Henderson has shown we have to trust him.
Harry Maguire and Jordan Henderson have shocked me the most, you look the way they've both adapted and played in this tournament, it's outstanding. Maguire was our player of the group stages, and in the Senegal game, Henderson was excellent.
Kyle Walker has shut down some of the world's best wingers, including Mbappe, before, but he seemed to struggle against Senegal, do you have confidence that he can stop Mbappe?
Kyle Walker and Kylian Mbappe are as fast of each other, I have no doubt Walker will be able to keep up with him. But, Mbappe is not just about pace, he will beat Walker two or three times, it's just how England minimise those situations. Walker will need help and double up on Mbappe, if Jordan Henderson is positioned on the right, he will help.
Do England have the better midfield than France? Would you rather have Bellingham and Rice over Tchouaméni and Rabiot?
Declan Rice and Jude Bellingham is a better midfield than Aurélien Tchouaméni and Adrien Rabiot. The relationship Rice and Bellingham have has been great. France will be missing Paul Pogba and Ngolo Kante in that France midfield but the other two still have great quality in different ways.
Jules Kounde at right-back, from an England point of view, is a weakness and crack that they can try and exploit.
Seeing that the Pogba and Kante midfield helped tremendously in securing the 2018 World Cup, can England's midfield replicate that?
If England were to win the World Cup, it will be because of their defensive solidarity, not their midfield. You see teams like Brazil and Portugal scoring lots of goals, if this defence can stop that then England will go far into this tournament.
Is there anyone, other than Mbappe, that you are worried about in the France team?
I'm worried about Antoine Griezmann, who has gone under the radar, he's been brilliant. With Olivier Giroud playing as striker and occupying both centre-halves, Griezmann can find space in that 10 role. It's scary to think of Kylian Mbappe and Ousmane Dembele running down the wings and Griezmann supplying them with his vision.
We talked about young players to watch out for last time, should Premier League clubs have an eye on Goncalo Ramos after his hat trick?
Goncalo Ramos has had an outstanding impact for Portugal. He's playing well at Benfica but the manager could not have dreamt of the impact he's made. Ramos deserves to start over Cristiano Ronaldo now.
Arsenal have Eddie Nketiah as their striker now with Gabriel Jesus injured for months, it's now his opportunity to step up and take that position. But if he struggles, it will be an area they have to address in January. If they have the budget, they should go sign a player like Goncalo Ramos, they need to look at that position.
Now Liverpool have seen what Darwin Nunez is like, would they be thinking the signed the wrong Benfica striker after Ramos' performance?
Darwin Nunez is a quality player but has not hit the level Liverpool would have expected. But, he has not been able to fully play as a striker this season. We've seen Edinson Cavani and Luis Suarez occupy that position for Uruguay, and at Liverpool he usually plays wide-left. Nunez is a big game player and there's more to come from him.
Reports suggest Cristiano Ronaldo walked off the pitch on his own and is threatening to leave the World Cup after being benched. Is his ego stopping him from accepting his position in the team and their success?
Age catches up with you, regardless of who you are or how healthy you have been throughout your life. If Cristiano Ronaldo can accept his role of coming off the bench for the rest of the tournament, I still think he will have an impact. He'll be needed off the bench against Morocco in the next game.
Being benched at Manchester United, leaving Manchester United and now being benched for Portugal, it's all come at the same time for Ronaldo and I'm sure he will find it tough to handle. If I was still a goalkeeper, I would still be scared of Cristiano Ronaldo's quality, his threat is still there.
Who are the three best players you've played with at club or international level?
Steven Gerrard is the best player I have ever played with, his all-round game and leadership were world-class. Gerrard could play anywhere on the pitch, if the left back did not turn-up then you know he would do a job in that position.
Gerrard led by example in the England team even though David Beckham was our captain, he was the complete midfielder. Jordan Henderson and Gerrard were different players but the leadership Henderson has is one of the reasons he's in this England squad and starting XI.
What striker did you hate playing against?
Thierry Henry was a player I hated playing against because he always scored past me, he was unbelievable. We played the Invincibles when I was at Leeds and they were so good. Henry had the pace fn quality to finish past centre-halves. Then when I went to Tottenham, it continued. Henry must have loved playing against me because he would always score!
James Milner was a kid while you were at Leeds, how good has his career been? Should he have stayed at Man City or was it right to leave for Liverpool?
James Milner is a great example to all young boys and girls on how a professional football player should play and act. At Liverpool, he's become a hero, he's had a fantastic career. His attitude on and off the field and work rate is second to none, he is the epitome of what a football player should be.
Could you tell in games and training that Gareth Bale was going to be one of the best when Spurs signed him from Southampton?
You could not tell what Gareth Bale was going to go on and do when he joined Tottenham from Southampton as a left-back. The first few games he played with us, we lost! Bale is one of this generation's best ever players and his application off and on the field throughout his career has been great. He created his career with his own hard work, especially with the positional transition he made at Tottenham.
You have to rank him as one of Britain's best ever players because of his record, look at how many La Ligas and Champion Leagues he's won. What he's done throughout of his career makes him one of the best.
Even though you left on the same year, how did you feel about Dimitar Berbatov leaving for Man United? Was he a big loss for Spurs?
Dimitar Berbatov was a really big signing for Manchester United because he was one of the best strikers at the time. You compare his goal record at Manchester United and Tottenham and you see he would have scored more if there was more chances created for him at Spurs. His finishing and what he could do with his feet was one of the best I've seen. It was another shrewd signing from Sir Alex Ferguson.
Nick Pope joined while you were at Burnley, could you have predicted that he would be one of the key players to the rise of Newcastle and go to the World Cup with England?
I could tell Nick Pope was going to do great things when he joined as a young lad at Burnley. His talent and shot-stopping was excellent, his ability was clear from day one. He worked hard every day and the improvement he showed always meant he was going to succeed in his career. Pope is more than capable to play for England but it will be hard to get in front of Jordan Pickford with his performances at the moment.
Pope is more than good enough to keep his place in that Newcastle side if they progress further and buy even more quality players. He can play Champions League football and should be aiming for it.
What was your opinion on Phil Foden not getting a single minute of game time against the US?
I find it hard to understand why Phil Foden has not been near the starting XI, Gareth Southgate picked his team based on the game against Iran. Southgate is well in his rights to pick the same team again, but the thing for me is Foden is one of, if not, the best player we have. Foden did not even make it off the bench against the US, it was hard to fathom such a talented player can't get near the other players in the starting XI.
You look at Raheem Sterling who has not played well for Chelsea, Mason Mount playing ahead of Foden too is a surprise. Foden and Jack Grealish have been victims of Southgate's selection for quite some time. We needed creativity against the US, to Grealish's detriment, he's very good at coming off the bench and affecting the game which probably makes Southgate's choice to bench him easier. As far as Foden goes, he has to play. Bukayo Saka is the best player behind Harry Kane, but Foden has to start ahead of Mount or Sterling.
Could there have been an argument in the changing room? Because Southgate said Foden can't play in midfield which would technically make him England's 5th choice winger?
Phil Foden knows his role, I'm sure there's been no argument in the changing room. I don't see Foden as a winger, I see him more as an attacking midfielder. He can play as a 10 or on either flank, he's so intelligent he can play holding midfield too like the way Jude Bellingham does. I'd like to see Foden ahead of Mason Mount in a 10 role behind Harry Kane.
Conversely, is dropping Foden Southgate's way of avoiding what happened with Scholes, Lampard and Gerrard in the same midfield?
Gareth Southgate has a certain way of playing and picks players who can play in that certain formation. You can't compare this situation with the Paul Scholes, Frank Lampard and Steven Gerrard all playing together. I won't be surprised to see Phil Foden start against Wales.
According to Sky Sports, Jordan Henderson is starting over Jude Bellingham tomorrow for England, whats your opinion on that?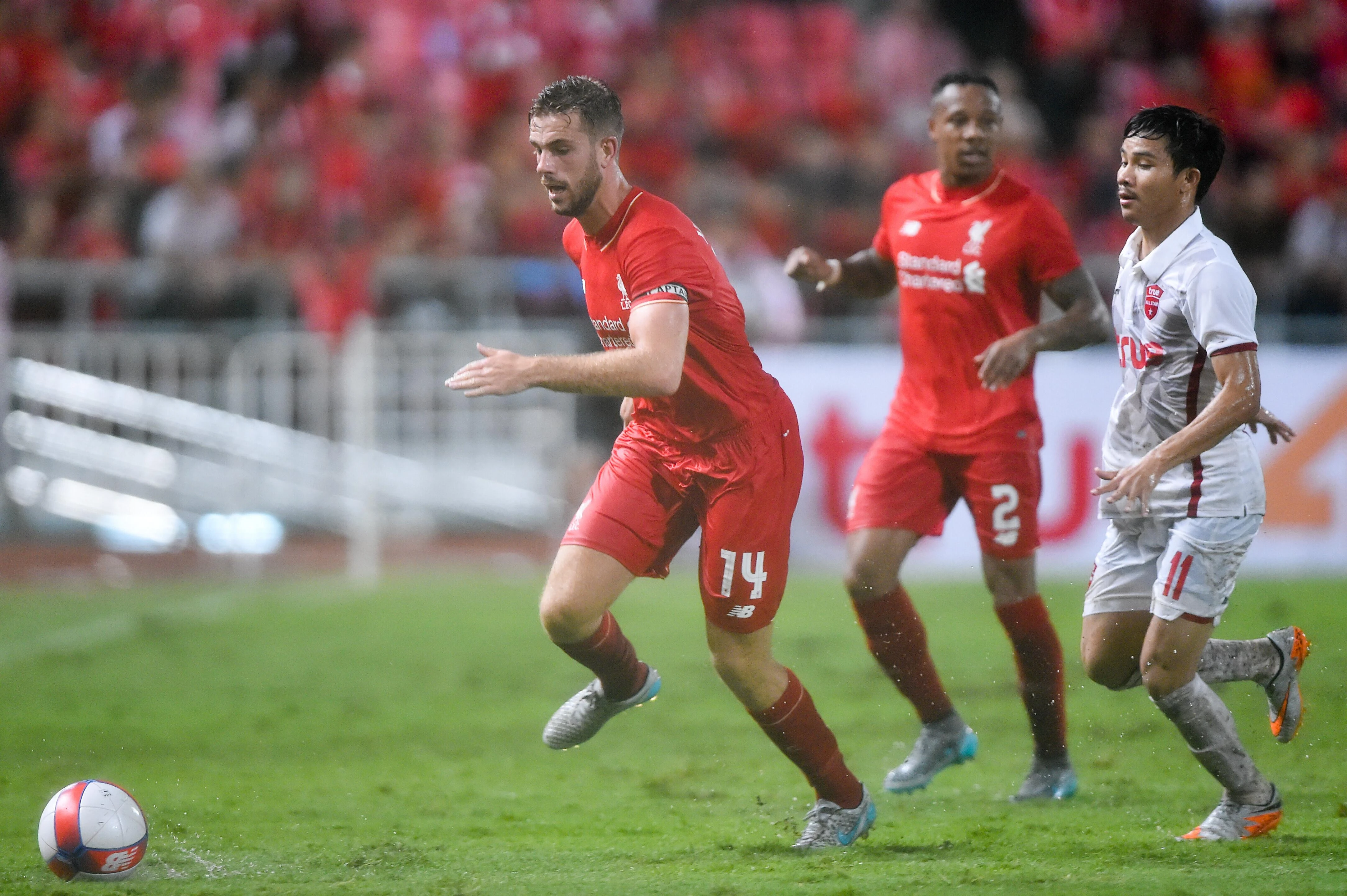 Jordan Henderson could be picked ahead of Jude Bellingham
Gareth Southgate has an opportunity to rotate against Wales because of the position they're in. Wales were poor against Iran, obviously surprised they got beat but the way they lost was poor. Someone with Jordan Henderson's experience means he can come into this game and do a job. But I don't like when England plays two defensive midfielders.
When England plays lesser nations in the group stages, they only need one defensive midfielder in that game. With Henderson coming into the team, I'm sure he'll try to play in Jude Bellingham's position. Whatever starting XI Southgate puts out, I'm sure they'll be able to beat this tired Wales squad. It will be a game where England needs to play to their strengths.
What needs to change against Wales? There have been suggestions for a weaker team to rest key players but can England risk that?
Kalvin Phillips needs to get some game time, he'll definitely be important as England progress through the tournament. Phillips is obviously documented of how little game time he's had at Manchester City. Similar with Jordan Henderson. I would not touch the defence because they've been excellent.
There was a lot of talk, from myself included, about not playing Harry Maguire but he was excellent in the USA game, he's back to the player we know he can be. Kyle Walker is coming back too, he'll need some minutes in his game, which gives another great option as Kieran Trippier can play left-back or Walker can play in a back-three if Southgate chooses to go back to that formation.
We have to look after Harry Kane with the injury he sustained in the first game. Kane will start against Wales, he's the captain but it depends how long he plays for, Southgate should think about giving Marcus Rashford or Callum Wilson game time in order to rest Kane.
Do you have any worries about Wales? Is this a game where they might care more about winning than England?
USA was a difficult game, they played well but it's a team England should have beaten. But we've seen a trend where most of the top teams' performances have dipped in their second, not just England. Only France have been really strong in both games. many teams have dipped, so I expect England to kick on now. Wales will always be up for a game against England, but you look at the two teams on paper, you'd think England will win the game comfortably.
Pickford has been England's number one and has rarely made a mistake, do you think he should stay in goal for the foreseeable future? Ahead of the likes of Ramsdale and Pope?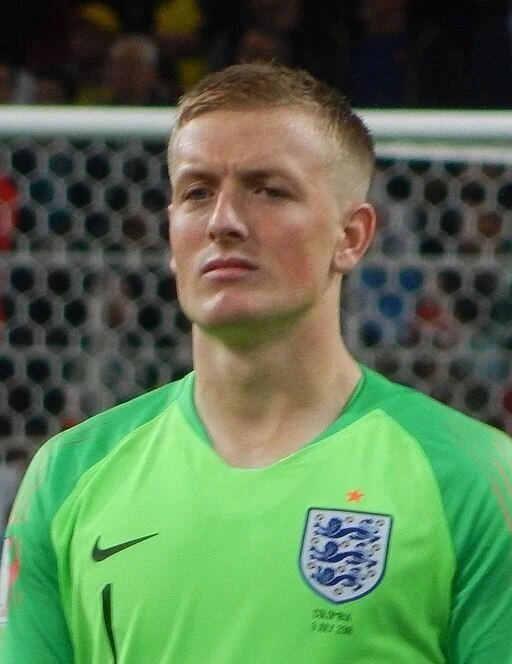 Oleg Bkhambri (Voltmetro), CC BY-SA 4.0 , via Wikimedia Commons
There's absolutely no conversation that Jordan Pickford should be dropped. I get really frustrated when people talk about Aaron Ramsdale and Nick Pope, they're excellent keepers and England has the best group of goalkeepers they've had for years. But Pickford is the out-and-out number one, and there should be no discussion of him losing his place. Pickford has played very well and proved he can handle the biggest stage of football. It annoys me there's a conversation because the other two have done well domestically. Competition is healthy, but at the moment there is no competition.
Would you feel safe with defenders like Stones and Maguire in front of you? Purely because of the criticism they have received over the years at club level?
I'd feel safe if John Stones and Harry Maguire were my defenders in front of me with the way they've played in this tournament. Stones and Maguire have not been playing consistently at club level so there was a concern going into this tournament. But the first two games have shown be there are no worries with them as the defensive pair, there was small errors against Iran but the defence was the strongest part of the team against USA.
The game has changed, I had world-class centre halves in front of me, which is probably what elongated my career for some time... We had the record number of clean sheets going into games. It's unfair to try to compare the current defenders to John Terry and Rio Ferdinand. John Stones is a great ball-playing defender and Harry Maguire is different to all three. But Southgate does not have the world-class options we had on the bench.
Would your former England managers, Sven and Capello, do better with this group of players than Southgate is doing right now?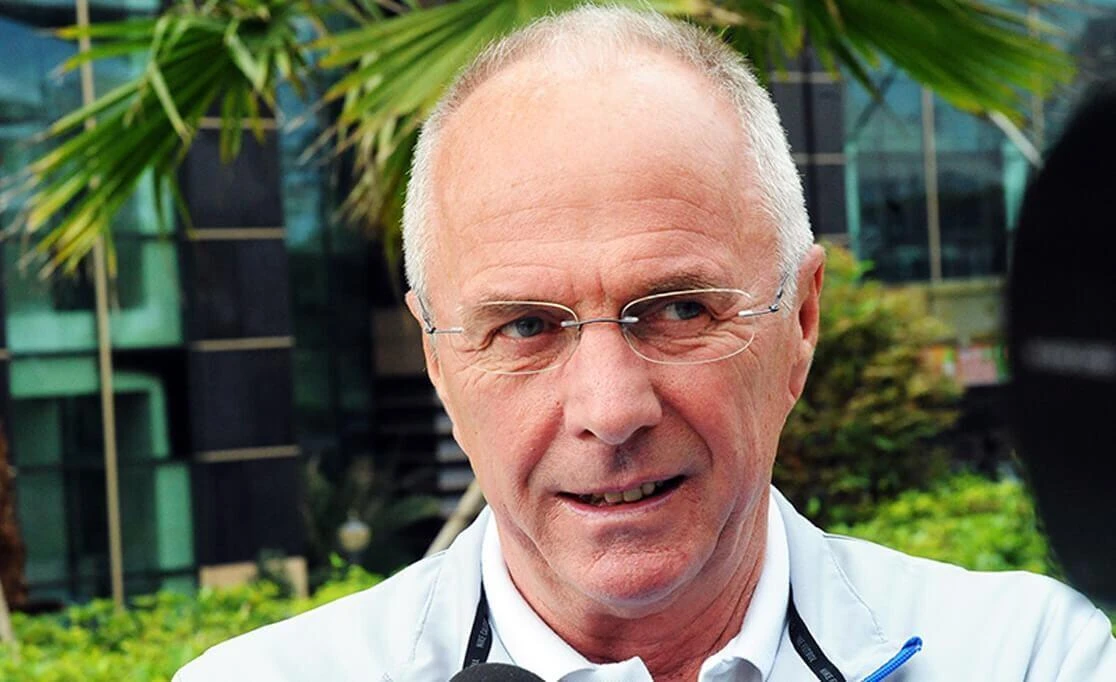 Former England Manager Sven Goran Eriksson - Image: Anders Henrikson/flickr
Sven Goran-Eriksson and Fabio Capello would not be able to do a better job than Gareth Southgate with this group of players. Southgate has modern thinking, is able to adapt his systems, adapt the way they play. The way Sven and Capello set up, they were tactically unaware. We either played in a 4-4-2 or 4-4-1-1 with Sven, and that was it, he tried getting the best players into that team, there was no flexibility in formation.
If my team in 2006 was played under a modern manager with a modern way of thinking, they would have got better quality out of the players in that team. Football has developed and evolved in different formations, compared to how rigid Sven and Capello were. I did not enjoy my time under Capello, I left the scene very quickly, his track record and the way his players talk about him speaks for itself. We were too rigid in 2006, we just tried getting the best players in that formation rather than having a formation that suited our players.
Sven has said this group of players are better than the team you were a part of in 2006, do you agree?
It's hard to compare this current England team with my team in 2006. Sven has not worked with this current team day to day like he did with us so he can look from afar. The quality of players in the final third is up there with some of the best in the world. We did not have a bad team in 2006 when you look at the names.
A lot of criticism has come Harry Kane's way for not being a traditional striker who stays in the box, do you agree or believe he should carry on the free-roam role he plays?
Harry Kane is the focal point of the team at striker, but he has more to his game. He drops deeper and has become better. When he plays with the likes of Bukayo Saka and Raheem Sterling behind him, he knows if he drops deep, they'll run in behind. Kane is one of the best passers in the Premier League with his vision and ability. When the team is playing well, he is the all-around striker. When Kane plays on his own, he can drop in and his passing is unreal.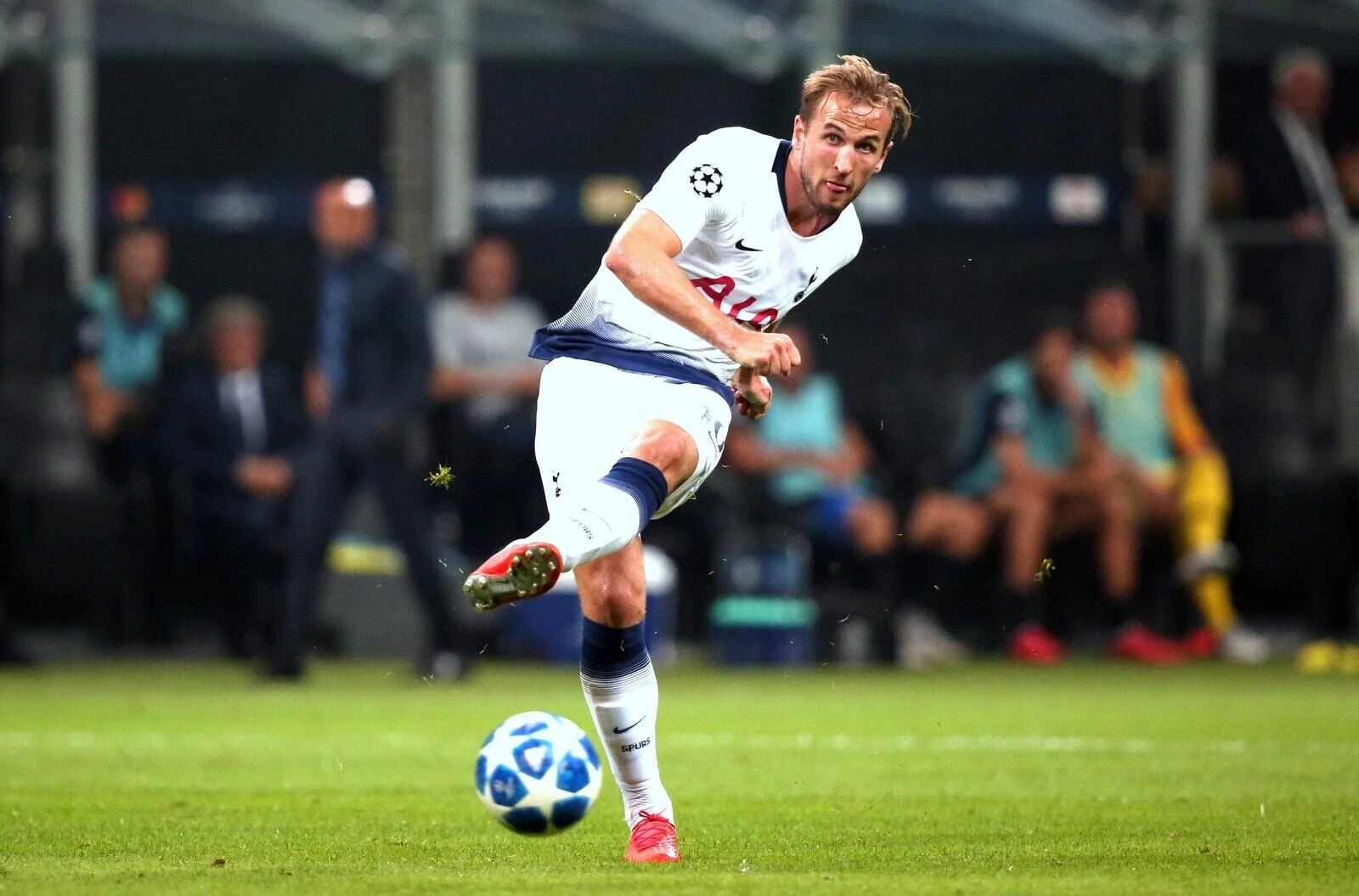 Regular criticism for Kane for not 'being in the box' enough - Photo: Shutterstock/ph.FAB
Anyone you have had your eye on that Spurs should try sign in January?
Cody Gakpo will come to the Premier League at some point, I don't think it will be in January because the transfer window will be quite disrupted due to the World Cup. Liverpool will be looking at him because the quality of their depth is in dire need of strengthening. Liverpool, regardless what takeover situation they're in, need strength-in-depth, especially in midfield. They should be looking at Declan Rice and Jude Bellingham too.
The Liverpool assistant manager rates Cody Gakpo very highly, the last time he rated someone this highly was Diogo Jota, and he was proved right with that signing. I would not be surprised if Liverpool came in with a late bid for Gakpo, and I think Liverpool are more in need of Gakpo than Man United are.
The Ajax striker, Mohammed Kudus, is an excellent young player for Ghana. He's scored against Liverpool in the Champions League too, he's not short of confidence that's for sure! He is the young player of the tournament in my opinion.
Were you impressed with Tyler Adams' performance? Do you see him having a long successful career at Leeds?
A lot of Champions League clubs will be looking at Tyler Adams. From a Leeds point of view, I've watched him since he joined. Adams is very competitive, he does not care who he plays against and puts in the same effort of performance week-in and week-out. He's excellent with his ball rotation skills. We all saw against England what a top quality player he is, the problem for Leeds is now everyone else has seen how good he is. That kid can go on to play in the Champions League, so will Brenden Aaronson, both were excellent. Adams has been the player of Group B so far.
Have England made a mistake in letting Jamal Musiala change his nationality to German?
Jamal Musiala is one of the best young talents at this World Cup. It's not England's fault that he changed nationality, you play where your heart is. Even if he stayed at Chelsea, I don't think he would have played for England because it seems he has an allegiance to play for Germany.
Has Roberto Martinez wasted Belgium's golden generation? Is it a bit similar to England in the past?
There's a lot of unrest in the Belgium camp. With Kevin De Bruyne's comments about Belgium being an ageing team, I thought maybe it was a smokescreen to play their chances down to take the pressure off, but when you look at what Jan Vertonghen said about the strikers being too old, it shows there is clear unrest. I would not say this Belgium generation is wasted yet, they can still qualify to the knockouts.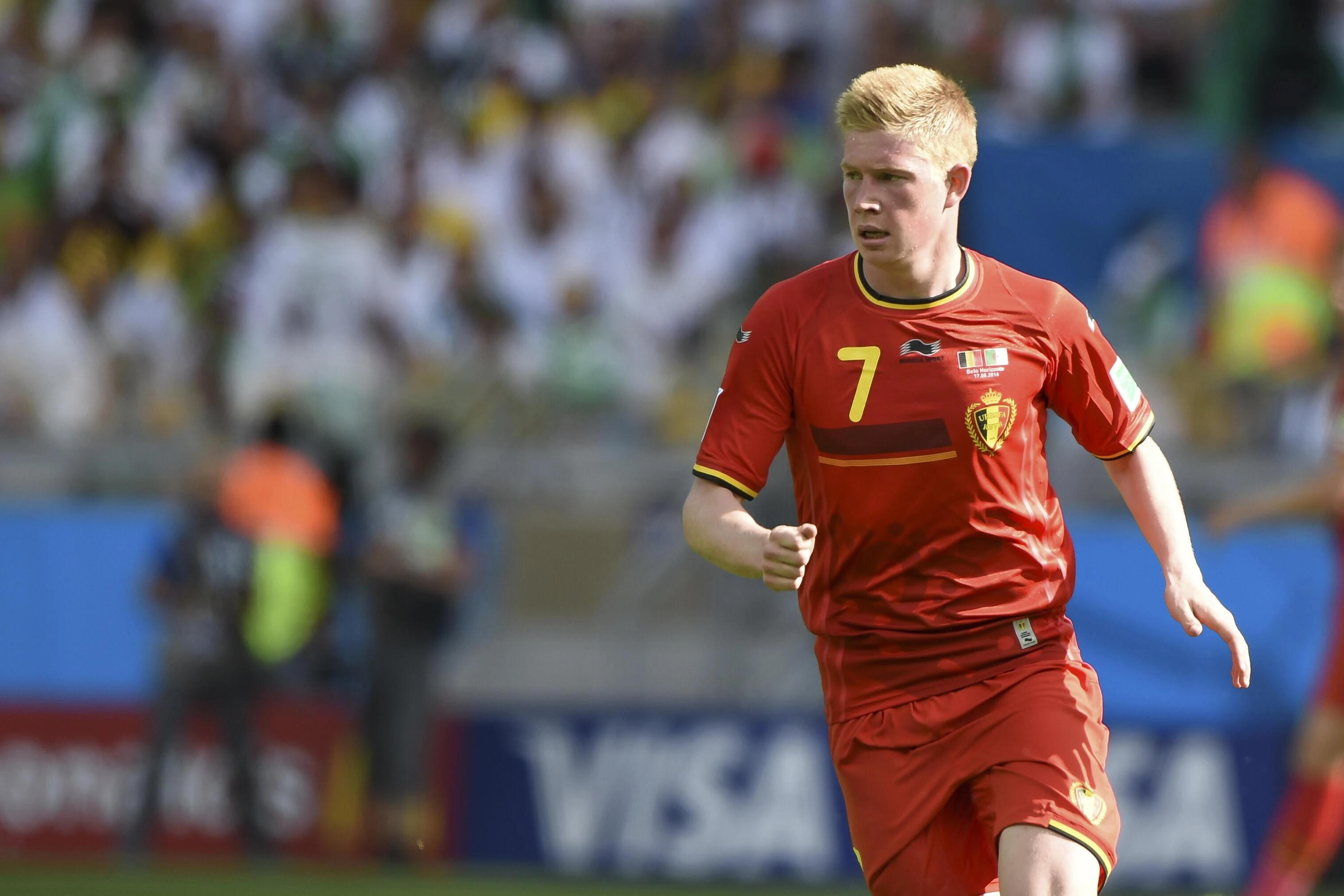 De Bruyne has said the Belgian team is too old
Should clubs like Tottenham or an other Premier League team be looking to sign the Celtic right-back Juranovic, who had a great game against Canada?
The right-wing back position is clearly an area that Antonio Conte is unhappy with. The Tottenham fans are not happy too. Emerson Royal is very inconsistent, Matt Doherty has been in and out of the side. Conte will be looking at Josip Juranovic after his performance against Canada, but Conte wants might want more of a specialised wing-back.
Is there anyone else you've seen at this World Cup you think the top-six should be targeting?
Gavi would be a brilliant player for the Premier League. But he's at Barcelona so it feels like there's no chance of any club getting him. The kid is only 19 and is playing right at the very top. There's probably a lot of those Spanish players who would like to play in the Premier League, but you have to get them out of there first.