If you are new to betting, bet365 in-play betting should be your 1st choice on one of the best betting apps available.
But you have a choice depending on your preference of event to bet on. Take a look at the options.
They scored well by not having a raft of adverts on the in-play page, you could say this was an in-play design for dummies, which is a compliment to its neatness and ease of use, it looks excellent on mobile which is plainly its design brief.
The only issue it seemed was that they could have had in-play stats and the pitch graphic available at the same time, they are currently behind different buttons.
[EXTRA] Best bookies for In Play betting features list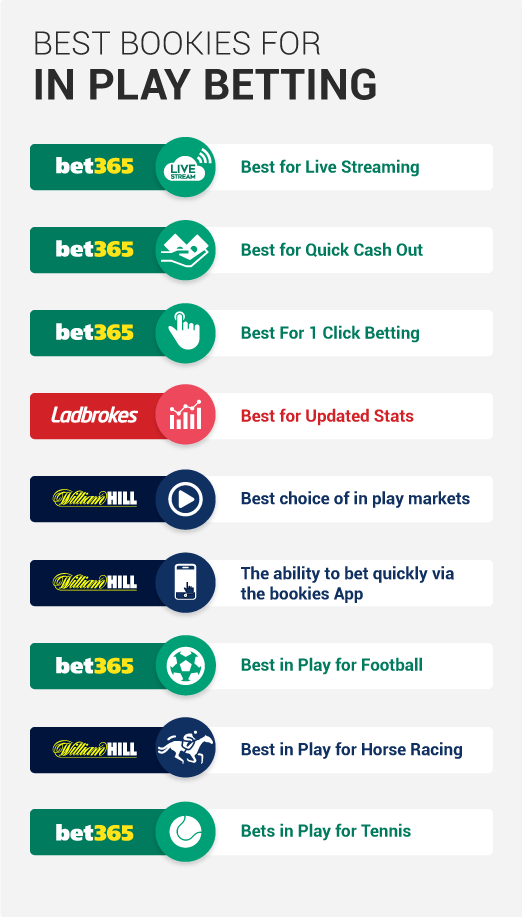 Bet365 Live Streaming
Geo-restrictions apply.
To use the Live Streaming service you will need to be logged in and have a funded account or to have placed a bet in the last 24 hours.
For UK/Ire horse racing simply place a bet of at least £0.50 win or £0.25 each-way on your selection to watch that race.
Best Bookies for In Play Betting on Mobile
These bookies are the best when betting in play on your mobile device
William Hill
Bet 365
Ladbrokes
Betfair
Paddy Power
Read on to find out the best Desktop in play bookies, and why these online bookmakers come out top.
Best Bookies for In play betting on Desktop
Bet 365
Ladbrokes
Paddy Power
Betfair
William Hill
Read on to discover the best features of each of these bookmakers for in-play betting
Online Bookmaker In Play Betting Guide
In-play betting has now become as important as pre-match or pre-race betting. When betting in play it's important to have as much information available as quickly as possible, we are making instant decisions when placing a bet, and to have one screen with all the relevant info is crucial.
Key Features:
Live Streaming
Quick Cash Out
1 Click Betting
Relevant Stats
In-play markets
The ability to bet quickly
The majority of bookies now offer in-play betting, but the quality of service and speed of updating prices is crucial, bettors need an in-play bookie who is always on the ball.
Bets can now normally be placed from the 1st minute of an event until near conclusion. You also need to be offered as many in-play markets as possible, the big 5 do a great job in supplying a wide cross-section of markets, we found not much difference in their coverage between them.
We tested a minor mid-week football match from the Big 5 bookies on a desktop computer. On desktop, there was no doubt Bet 365 should be your in-play firm of choice. On the App, we liked William Hill.
We understand that the pages have to take into account mobile users but surely not to the detriment of desktop?
All the live services were better on their dedicated mobile apps.
Bet365 In Play betting
This had the best football pitch graphics in our opinion, we liked the ability to maximise or minimise the pitch graphic.
Quick bet was an option with Bet365 where some of the processes were speeded up, enabling faster placement of your in-play bet, the quick bet slip also appeared just above the odds and not on the right-hand side of the page, that is an excellent feature, we loved it.
All you needed to go in play was on one page (on desktop), including live streaming of 1000's of events.
Live Streaming can be viewed on the In-Play page by using the drop-down menu directly above the stream and selecting the event you wish to view.
Their in-play tennis coverage was excellent. Whoever designed the in-play page we reckon was a bettor themselves who didn't want to be distracted, a top job from Bet 365.
Bet365 Live Streaming
Geo-restrictions apply.
To use the Live Streaming service you will need to be logged in and have a funded account or to have placed a bet in the last 24 hours.
For UK/Ire horse racing simply place a bet of at least £0.50 win or £0.25 each-way on your selection to watch that race.
Betfair Sportsbook In play betting
Betfair really invented in play betting but have been caught up by others it seems.
The page has wide gaps on the left and right-hand side of the page, with nothing on them, now we don't want to see a load of adverts cluttering up the space, but surely, they could have added some stats in that space?
It looked like something hadn't loaded rather than a deliberate act, but we understand all the in-play pages look like that.
This was another site where the pitch and the stats did not show at the same time.
For such an innovative company we felt that the other sportsbooks had been trying harder, sister site Paddy Power have new efficient in play pages, so we would hope for a redesign soon.
Ladbrokes In play betting
We liked the in-play interface on their site, it was clear and concise in blue and gold highlighted colours, which were easy on the eye.
Their live pitch graphic was placed next to the score and stats which was perfectly placed, but not as clear as other bookies pitch graphics.
The betting markets were underneath the graphics in grey and white we thought they were the best of the big bookies when it came to reading and clarity of the odds.
The boosted odds are also an in-play feature on Ladbrokes, which can make the game more lucrative.
Where Ladbrokes scored poorly were the number of adverts on the in-play page, this distracted you from concentrating on the in-play event. It looked a bit squeezed when you went to place your in-play bet.
William Hill In Play Betting
Because William Hill offer so many markets it looks cluttered and was the worst looking of the in play big bookies.
The type face was too small and easy to click the wrong market, it was not an enjoyable experience and the sooner they redesign the better.
We just got confused with so much going on in front of us.
However if you want the best choice of betting options including the obscure, then you should try them first.
Where they scored well was William Hill Radio which was professional and informative.
They call Cash out Cash in for some reason, not helpful to the novice bettor.
The William Hill App was the reverse and rated the best in our mini test.
Excellent in play horse racing coverage
Who is the best overall bookie for In Play betting?
If you want an easy to access in-play betting experience then Bet 365 should be your first choice.
If Ladbrokes remove their annoying adverts then they would be our next choice.
William Hill needs to go back to the design drawing board on desktop, as in play betting with them is no fun, and you will need a couple of paracetamol after spending more than 10 minutes looking at the screen.
We were disappointed with Betfair because maybe we expected better from them.
Check here for the full list of in play bookmakers online.