This section is dedicated to betting terminology you would only hear, or at least mostly hear in reference to betting on horse racing. This can be a wholly entertaining section with much slang which we will include and try to explain best.
Ante-Post Betting
Ante-Post generally means placing bets more than 24 hours before an event is due to begin. Ante-Post bets can be placed, days, weeks, months, and even years before the scheduled event is due to take place. There are specific rules that apply to Antepost bets that do not to 'normal bets'
This OLBG Member Won over £8,000 three times with Ante Post betting
In this blog article he describes what he did, how he made selections and provides more advice for Ante Post betting
Read today
All Out
In Horse racing, All-Out means that the horse in question has given and is giving everything he/she has left in energy reserves to manage the best possible finishing position possible.
Ultimately, all-out as a comment will come in the final stages of a race and confirms that the horse was genuine under an animated effort from the jockey in an attempt to finish as well as possible.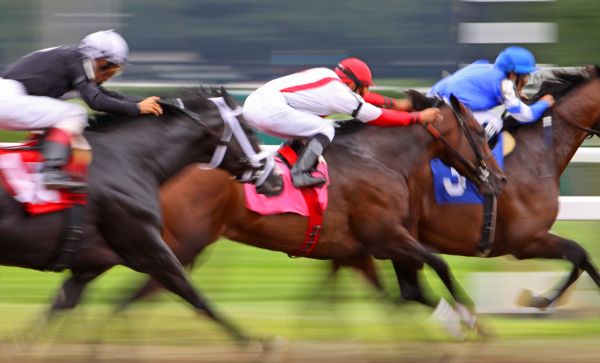 All-Weather Racing
All-Weather horse racing takes place on an artificial surface; not run on a traditional turf surface but actually run on an artificial, synthetic surface instead. These surfaces allow Racing to be held in the UK when there is bad weather, as the artificial running track can take [almost] any amount of rain on it.
All-Weather Betting Guide
This guide from OLBG member Jeremiah Catskill was written some time ago on the OLBG Forum, and whilst some facts have dated the strategy and approach has aged very well
AW Guide Forum Thread
There are six all-weather racecourses in the UK, with Polytrack at Lingfield Park, Kempton and Chelmsford City, Fibresand at Southwell Racecourse and Tapeta at Newcastle and Wolverhampton Racecourses.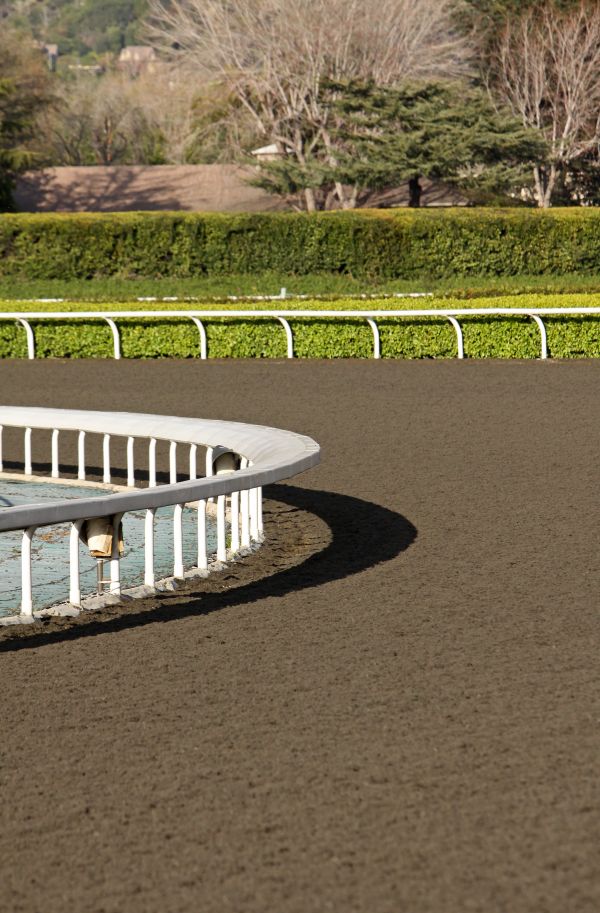 Which all-weather racecourse have which surfaces?
Fibresand
Fibresand is considered the slowest, and generally, the least favoured of the all-weather surfaces in use in the UK. Used only at Southwell Race Course you will often find runners posting significantly slower times for comparable distances races from here.
Fibresand is Like Slow Going
Horses that prefer soft going on turf may prefer the underfoot conditions of fibresand
Polytrack
Polytrack is made from recycled rubber, carpet and silica sand and then waxed. Installed at 3 of the 6 all-weather tracks in the UK, namely, Lingfield, Chelmsford, and Kempton, globally it is the most popular artificial surface used for horse racing and is also used widely at training yards too.
It is Polytrack is laid in two layers, a compact layer of about 7 inches depth, and then a further 3-inch loose layer on top.
FUN FACT: Richard Hannon was the 1st Yard in the UK to have Polytrack Installed in 1987
2 years later in 1989 Lingfield was the first UK race course to host a race on the new surface
Tapeta™
Very similar to Polytrack, Tapeta™ is a newer synthetic product used for all weather racing in the UK. Installed at both Newcastle and Wolverhampton [formerly Polytrack] it was devised by former trainer Michael Dickinson.
Tapeta™ is the most resistant all-weather surface to water and specifically rain and can remain raceable even after very heavy, sustained downpours
FUN FACT: Tapeta Inventor Michael Dickinson is a former NH Trainer
He trained the 1st, 2nd, 3rd, 4th & 5th Finishers in the 1983 Gold Cup at Cheltenham
First Past the Post
First past the Post refers to the winner of a race of course. The term has been adopted for a concession some bookmakers make in the event of a Stewards Enquiry.
Some bookmakers will pay 'First Past The Post' regardless, even if the original winner is relegated from 1st either through a reversal of positions or disqualification in the steward's room following an investigation.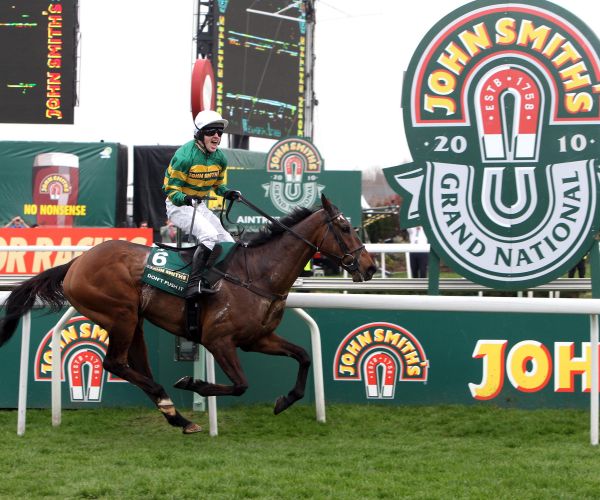 Headgear
There are various forms of 'headgear' used in horse racing. These are signified on race cards by a series of abbreviations. OLBG members have discussed headgear in detail on the forum
Blinkers
What are Blinkers and why do horses wear them?
A device fitted to a horse's head which restricts its field of vision in order to help its concentration. The main reason blinkers are used is to make sure that the horse focuses on what's ahead of it, rather than what's in their peripheral vision.
Usually used as a calming down tactic, blinkers can sometimes have the reverse effect during a race.
Visor
Why does a horse wear a Visor?
A Visor is a device fitted to a horse's head which restricts its field of vision in order to help it's concentration. Similar to blinkers, the visor will be put in place to help the horse, but the visor has a slit in unlike blinkers, meaning that the horse can be reassured that there are other runners in the race.
Eye Shield
An Eye Shield is similar to blinkers but restricts the vision in a different way. The purpose remains the same in aiding the horse's concentration throughout the race and avoid distractions.
Tongue Strap
A breathing aid used on horses that has a strip of cloth to stabilise the tongue and stop it from sliding over the bit.
Cheekpieces
Why do horses wear Cheek Pieces?
Headgear worn by horses to help performance, similar to blinkers Cheek Pieces are meant to keep a horse concentrating on the race rather than seeing what's in its rear vision.
Favourites
A favourite, which can also be known as the 'Jolly' is the horse with the shortest price in the betting market. Thus the favourite to win the race. It is possible to have more than one favourite if two or more horses share the shortest price
Joint Favourite
'Joint Favourites' occur when there are two horses sharing the shortest price in the betting market
Co-Favourite
Co-favourites is an extension of joint favorites in when there are three or more horses sharing the shortest price in the betting market.
Why do tipster's call their best bet a NAP?
A tipster's best bet of the day. There are several theories as to why the term NAP is used, with the most common one coming from the card game of Napoleon, when a player wins all five tricks being described as having a NAP hand - the best hand. This is why tipsters describe their best bet as being their NAP of the day.
What does NB mean?
A tipster's second-best bet of the day. NB stands for Next Best and will, therefore, be their second, or next best, bet of the day for the days Racing.
Photo Finish
When a result cannot be determined with the naked eye a photo is called for. The judge will then be able to determine the winner and winning distance using a photo. A photo may sometimes then be called as a dead heat, where the odds will be paid out in a dead heat ruling.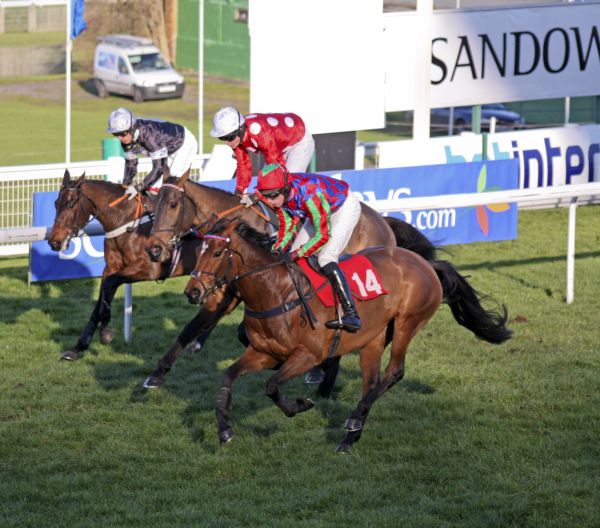 Tote
Betting system that settles bets based on dividends rather than set prices. The Tote has a strong presence at racecourses throughout the UK, but it is also available with most bookmakers online and in shops. The most popular form of Tote betting is the placepot, where you pick horses to place in each race to get a share of the total pool.
The tote often pays more than the industry SP prices, especially at bigger meetings like Royal Ascot on the flat or the National Hunt Festival at Cheltenham
What is an Apprentice Jockey?
A young flat jockey who gains a weight allowance over more experienced jockeys. The weight allowance decreases as the jockey gains more victories. Apprentice jockeys are aged between 16 and 25 and are normally employed by UK racehorse trainers through the duration of their apprenticeship. Apprentice jockeys are flat racers, whereas conditional jockeys race over jumps. Apprentice jockeys
Backward
A horse that is not fit enough or developed enough to do itself justice.
What does Bar mean in betting?
Mainly used in Horse Racing, Bar is a betting term used for selections that are a higher price than the odds that are stated in the chosen betting market. A commentator may run through the first 6 horses in the betting and then mention something like '10/1 bar' meaning the remaining runners in the market are priced 10/1 or bigger
10/1 Bar
10/1 Bar means all runners not mentioned in a betting market commentary are priced 10/1 or higher.
Blanket Finish
A blanket finish is when several horses finish a race that are very close together, so close in fact that you could throw a blanket over them.
What is a Bumper race?
A national hunt race run over the flat (no hurdles or fences), designed for horses who haven't run on flat before to get that race experience.
Course and Distance - CD / C&D
Course and Distance is a sign that a horse has won over the course and distance a race is taking place, sometimes referring to the same race the previous year.
How to Read Horse Racing Form
For a total guide to what the various letters and figures on a horse racing form card mean, check out the 'How to Read Horse Racing Form' Article
Read now
What does the Clerk of the Scales do?
The official responsible for ensuring all jockeys weigh-in correctly. The Clerk of the Scales will weigh in all the jockey's and their equipment before the race begins, before also checking them after the race to make sure that there are no changes.
Conditional Jockey
A young jumps jockey who gains a weight allowance over more experienced jockeys. The weight allowance decreases as the jockey gains more victories. A conditional jockey is under the age of 26 and has not won more than 75 races under National Hunt rules.
Dam
The female parent of a horse.
Dead-Heat
When two or more horses' finishing positions cannot be separated, the odds are then paid out in dead-heat ruling. For winning markets when two runners are tied, the odds will then be worked out by [(Stake/2) x (Odds-1)] - (Stake/2) = profit/loss.
Draw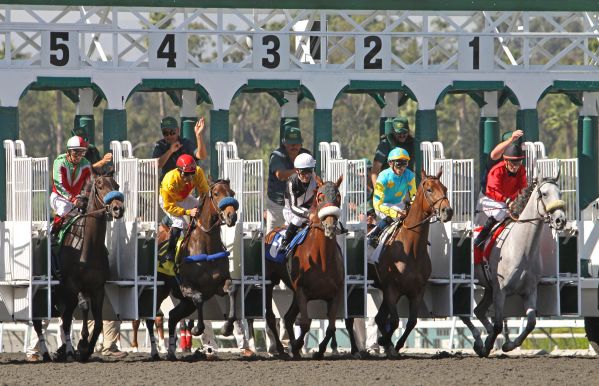 Reference to the number of the stall that a horse will begin a race from. The draw is usually chosen at random on the day before or the day of the race.
Some race courses have a bias for runners in specific sides of the draw, high or low. This can be especially prominent on small running courses like Chester, or wide straight spring tracks such as Ascot.
The Draw is one of the most discussed topics on the horse racing form here at OLBG, and you should check out this draw discussion which goes through many of the courses in the UK.
The Effect of the Draw
Knowing which courses have a draw bias can be helpful when betting on horse racing in the UK
Draw by course
Furlong
Standard distance unit in Horse Racing. A furlong is equal to 220 yards and there are eight furlongs in a mile. You'll see all races in Britain using miles and furlongs.
What does 'Going' mean in Horse Racing?
Going is the description of the underfoot conditions of a racecourse and is an important part of Horse Racing as it can affect how a horse performs.
The going ranges from heavy to firm. More rain and moisture in the ground will make it softer and sometimes even heavy when there's been a vast amount of rain, whereas the dryer the ground the more firm it'll be.
There are also variances in All Weather ground conditions but these will be far less common given the surfaces are designed to be consistent - You may see Standard or Slow as descriptions
Green
Running excitedly and uneconomical. Running green is mostly associated with young horses with less experience of competitive action on the race course.
Handicap
A race where horses carry different weights based on their official rating or greyhounds get a head start based on their ability.
The aim of a handicap is to try and put all of the runners at a similar playing field.
You'll see that a winning Horse will be assessed by the handicapper when winning a race, but there's also a review after running three races where the handicapper will see how the horse has been running.
What is a Handicapper
In the UK it is someone who has a responsibility to assess a horses ability and issue a handicap mark - In the US, a handicapper is the equivalent of a Tipster in the UK
What is a Maiden horse?
A horse that is yet to win a race. Maiden races are made where all the horses that run are yet to have won a race.
Non-Runner
A horse that was originally declared to run but is no longer participating. A specific reason has to be given by the trainer as to why a horse can not take part in a race and the various reasons are almost endless, including traffic problems getting to a course, veterinary advice and more.
Following Non Runners Next Time Out
There has been a lot of discussion about non runners on the OLBG forum. Here is a list of great discussions and some profitable angles for following horses declared as non runners.
Non Runner Info
What does Non Runner No Bet mean?
Non Runner No Bet - Bet on an ante post market where the stake is returned in the event of a non runner. Our Best Odds Guaranteed article highlights the bookmakers that are best for NRNB markets too, with NRNB used usually for big Racing events like Cheltenham for example.
On the Bit
He's Still On The Bit!
Every punter wants to hear their runner being described as still being on the bit coming to the end of the race!! You are almost certainly on the winner.
When a horse needs no riding from the jockey, meaning it's an easy ride for them with no pressure needed at all.
What does Overweight mean in Horse Racing?
An eventuality where the jockey weighs more than the weight one of his rides is supposed to carry. In this instance the jockey will either be replaced or be allowed to carry the 'overweight'.
No jockey is allowed to carry more than 4 pounds of the weight in which they are supposed to and they are also not allowed to change their equipment after they have weighed in.
What is a Rule 4 deduction?
A reduction in odds on bets placed before a certain time due to a fancied runner being withdrawn. The more fancied the runner, the bigger the rule 4 deduction. The reason that the odds are then deducted is due to the fact that the race should then be easier for the other horses to win.
Understand Rule 4 Before Complaining
The Rule 4 deductions are not difficult to understand and make perfect sense. Any confusion, ask the OLBG members on the forum. They helped this punter out who got a bit lost by it all
Rule 4 Help
What are Horse Racing Silks?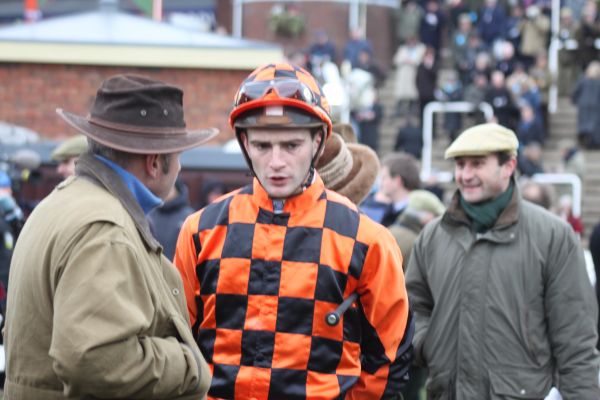 The colours worn by a jockey riding a horse to differentiate themselves between other racehorses. The silks represent a horses owner and help out punters and commentators to see which horse is which during a race.
Sire
The male parent of a horse.
SP
Starting Price - the price of a horse when the race starts broadly based on an average of the on course bookmakers odds for the horse.
Stewards Enquiry
An investigation into on goings in a given race. Can result in place reversal or jockey suspensions.
Stewards Enquiries Can lead to Much Debate
There are winners and losers in every Stewards Enquiry, on or off course. Using a First past the Post Bookmaker can help
Look at this Stewards Discussion
What does a Walkover mean?
A race where there is only one runner left after a number of non runners. Jockey Club rules state that the horse has to at least 'walkover' the course and past the judges to be declared the winner of the race.
18th century racehorse great Eclipse won 18 races in total over his career, with 9 of them being walkovers as there were no guarantees for prize money for 2nd and 3rd place finishes, therefore trainers didn't want to race their horses against him.