What is Horse Racing 'Form'?
By the end of this article, you are going to know more about reading horse racing form than anyone else you know.
You will understand the abbreviations used by various racecards, their importance, and how you can use them to find more winners in horse racing.
Become an Expert on Reading Horse Racing Form
Fully understanding how to read and interpret horse racing form will not help you pick more winner but you will AVOID more losers.
What is 'Form' in horse racing? - Horse Racing form is a historical record of a horse's previous performance and statistics. It provides a complete record of how a horse has performed in all of its previous competitive outings in races across a vast range of variables. You see a small amount of the form on a racecard in various publications, websites, or horse racing course race guides.
Read on to discover
How to read basic horse racing form
How to read advanced form information
How to read form on Sporting Life
How to read form on the Racing Post
How to read form on AtTheRaces
Which form pointers are the most important
Where Can I Find Racing Form?
There remain the old fashioned form books that are released on an annual basis. I was once a collector of these huge volumes of racing form and had many a pleasurable hour searching through and making form lines between runners taking each other on in races. However, times have moved on and thankfully horse racing form is both more accessible and easy to find and filter.
Places to Find Horse Racing Form
Internet Sites
Racing Form Software [Updates required]
News Papers
Form Annuals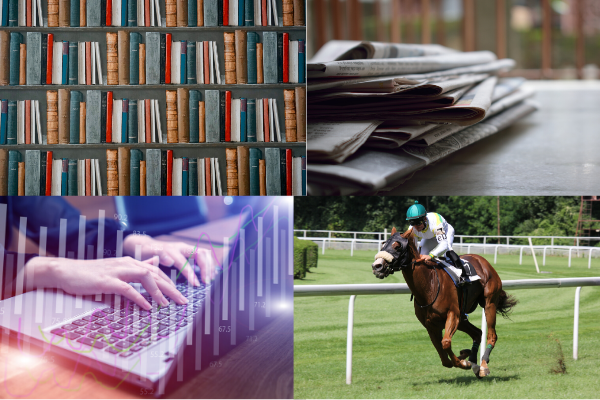 You can still find racing form in the pages of daily newspapers and specialised publications like the racing post. These are excellent for reading form for the past few races with a good selection of form lines to find.
The internet, however, has opened up the possibility to present every single piece of form and detail in a much easier to find, filter, and read format.
Horse racing form plays an integral part of finding winners, or even horses that might lose even though they are favoured in the betting markets
Never has there been so much horse racing form at our fingertips, simple to access and the form card will contain every single race the horse has run, against the limitation of the printed press or perhaps only the last couple of races.
With this comes another set of problems. Now you have access to a lifetime of form for all the runners in the race, you also can assess the form of the runners it ran against last time, the time before, and more.
So how do you choose what form to look for, and make sense of the dozens of abbreviations and horse racing form jargon you as yet do not understand?
You could of course always watch back old races to evaluate the form for yourself
What Do The Abbreviations in Horse Racing Form Mean?
Many letters are used to represent different goings on in previous races. For a full list of these abbreviations and other horse racing terms check out the lesson on Horse Racing Terms and Abbreviations.
This is a complete guide to the letters and abbreviations you may come across when looking at various racecards for horse racing.
What do the abbreviations in horse racing form mean? -
Race types
There are many different types of race that could be referred to in horse racing form. There are different types of race that will be competed in flat racing and not in national hunt and vice versa. These races are significantly different and affect how you would assess the form of a performance in one of them, so it is important to understand the differences.
Am - amateur race
App - apprentice race
Auc - auction event
AW - all-weather race
Ch - chase event
Cls - Class of race
Cond - NH conditional
Div - Division
Gd - Grade 1,2 or 3 (Jumps Only)
Gp - Group 1, 2 or 3 (Flat Only)
Hcap - handicap race
Hur- hurdle event
List - Listed Class Race
Mdn - maiden race
NHF - National Hunt Flat race
Nov - novice event
Sell - selling race
Sex and Colours
Did you know that male and female horses will compete together in the same races at times? It could make a difference to the way you decide upon how you are reading the form, so again, the abbreviations are goo to know.
Lucky with sex and colour, there are not very many to remember and they are quite easy too.
b - bay
bl - black
br - brown
ch - chestnut
c - colt
dk - dark
f - filly
g - gelding
gr - grey
h - horse
m - mare
ro - roan
wh - white
Going
The 'Going' is the condition of the ground upon which the race is taking place. Wet weather and heavy watering of courses will promote softer gong, whilst much dryer weather and a course with excellent drainage will see good and good to form going more often. The seasons play a part in the ground of course, but most courses would prefer to race on good or good to soft ground
That might not be the preference of the horse who may prefer more firm or much softer ground and perform better on either.
f or fm - firm
g or gd - good
hd - hard
hy or hvy - heavy
s or sft - soft
stand - standard AW
yld - yielding (IRE)
Distances
Distances range from a spring 5 furlong race on the flat to the mammoth 4 mile task of the grand nations, the biggest national hunt horse race in the world. Again, a runner may have a penchant for a particular distance to run, or may perform better when dropped in 'trip' or indeed, show form that suggests a longer distance race would be better.
Understanding the distances are important for the race but also what the distance in the results, the finish indicate, from nse=nose, the shortest distance a horse can win a race by, to shd= short head, which as it might suggest, shorter than a head distance, moving up to a neck, half a length a length, 2 and so on.
dist - distance (240y from finish)
f - furlong
hd - head
l - length
m - mile
nk - neck
nse - nose
shd - short head
y - yards
Headgear
Race horse are often fitted with a varied range of equipment on their head to help with concentration whilst racing. The range seems to grow all of the time, and there may be some clues in the form that suggest you will get a better run from a horse when the headgear is scheduled to be worn.
This list of abbreviations really can make a huge difference to your horse racing form reading skills when memorised.
h - hood
b - blinkers a number next to the letter will indicate if it is the first or second time they have been worn
p - sheepskin cheekpieces
t - tongue-tie
v - visor
e - eye hood
Ht - hood and tongue-tie
e/c - eyecover
e/s - eyeshield
Other
This is a list of other horse racing abbreviations you may come across in various form cards newspapers and racing cards.
BF - beaten favourite in last race
Btn - beaten [in form comments]
C - previous course winner
C - co-favourite when used in prices
CD - course and distance winner
D - distance winner
J - joint favourite
N/R - non-runner
OR - official rating
Form figures
Next to a horse name on a race card will be a list of numbers, letters, or a mixture of both. these refer to past performances in chronoligical order. They may include just a few races or extended form over years and seasons, so whilst the number 1,2,3 might be obvious, you'll note no finishing position above 9th is indicated directly, rather a zero will signify, 10th or worse.
The letters indicate something other than a finish was achieved, be it a fall, being brought down by another runner, or even refusing to race among the possibilities.
123990412 - 123/21 Previous race finishing positions. Most recent on right
0 - if the horse finished outside the top 9
- between numbers means change of year
/ between numbers indicates season before last
B - brought down
C - carried out
D - disqualified
F - fell
L - left at start
RO - horse ran out
P - pulled up
R - refused
S - slipped
U - unseated rider
V - void race


LIve TV Information
A great deal of horse racing is now shown live on television. not so much on terrestrial TV except weekends and the biggest festivals during the midweek, but there are two dedicated horse racing cable channels available in various TV packages including AtTheRaces and Racing UK
Looking at a race card, you will often see some indication as to which television channel that race will be available to view on.
ATR - At The Races
CH4 - Channel 4
RUK - Racing UK
RTE - Irish coverage
ITV - ITV Racing
ITV4 - ITV Racing
Don't forget also that a great deal of horse racing can be viewed directly on a bookmakers app. We have a full article on the best bookmakers for live streaming. If you are out and about quite a lot but would still like the options of being able tom both bet and watch horse racing on your mobile, you can find out which bookmaker app is best for live streaming horse racing.
The Most Important Horse Racing Form Analysis Factors
So what things should you be looking for when trying to assess a horse's chance in an upcoming race? here I go through the most important factors to analyse.
What is the most important element of the form of a racehorse?
Without doubt the bare ability of the horse in question is a place to start and then move onto the class of the race, distance, going conditions, possibly which jockey is riding, handicap mark if applicable and finally actual weight being carried in the event. That's a start, and only the beginning.
But in order of importance on the bare form, the following elements should be considered as very important.
Class [Official Handicap Mark]
Recent Form
Track Condition
Distance
Weight Carried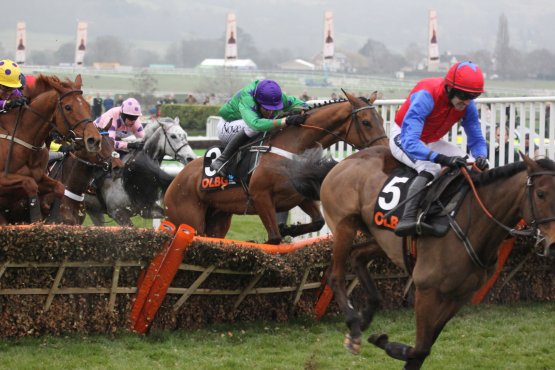 Class [Official Handicap Mark]
A handicap mark is a score given by an official board of experienced handicappers. They take all aspects of a horse's performance whilst racing to give them a rating.
Every horse with previous competitive form will be given a mark or a rating as to how it has performed. A horse will need to win a race or have three runs to get an official handicap mark.
Every Horse With Previous Form will Have a Handicap Mark
This is a short cut to finding out who the experts think is the best horse in the race.
This mark determines what type of races it can be entered into and compete. Each and every subsequent race will see the mark adjusted by the handicapper relative to the performance against rivals who also have a handicap mark.
Off the back of a good performance against similarly rated horses will see the mark increase. This may result in the horse having to compete in higher class races against similarly rated horses.
Class Seperates One Horse from Another
Continued good performances will see a horses mark increase and have to compete in better class races
Conversly if a horse provides one or more runs where it is well beaten, it is possible for the handicap mark to drop and therefore the horse will be classed as 'dropping down the weights' and able to compete in lesser races.
The handicap mark of every horse is easily visible in the race card and formbook and should be considered when trying to predict both the most likely winner of the race, or indeed, the best value bet.
Value betting is not about betting on the most likely winner, much more has to be taken into consideration including the betting odds.
The highest-rated horse or most likely winner may not be the best bet
To understand why the most likely winner may not be the best bet in the race, take a look at our value betting article, and see how to find the best bet.
Read About Value Betting
Recent Form
When looking at race form, recent form is the most important you can analyze.
It will give a guide to the most recent performances, and provide an insight into the current level of fitness of the runner the last time or two they were seen competitively on the racecourse.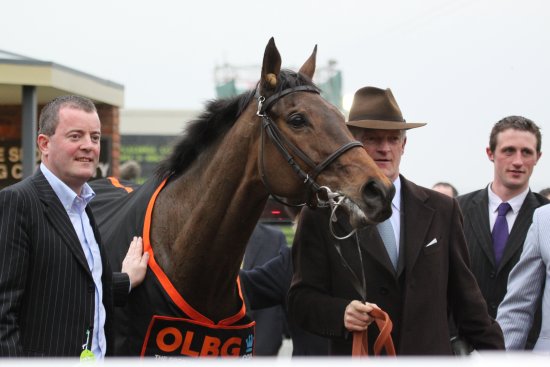 That is not to say they form from 12 months or even longer ago won't play a part in your analysis. For example, it may be the runner you are looking at has not faced the conditions about to be taken on since the same time last year, perhaps in the same race, in which case, I would certainly be noting that form, although not putting as much onus on it as the past few appearances if the same conditions were in place.
Good performance 12 months ago, perhaps 4 or 5 runs ago, is not going to sway me into making a bet if the runner has shown some very poor form in its most recent appearances.
Don't Ignore Aged Form
Regardless of the recent form, if this runner has performed poorly with conditions against his best performances and then returns to them 1 year later, I will consider the race winnable, and provide it some weight of confidence based on the price available and if that would qualify as a value bet
Find Out How to Find a Value Bet
What to Look for in Recent Form
Good performances, win and places, are obvious points that will stand out.
Improvement on previous runs
Bad luck in running, blocked run, etc
Running into a place behind a very good winner
Course Condition
There's an old saying that goes horses for courses. I'm pretty sure it is not directly related to horses running on particular courses in horse racing but it is something that can, will, and is often, applied to form reading.
If you can find a pattern of these course idiosyncrasies within good form of the runner, then you may uncover some potentially important information for when that horse runs with one or more of those conditions in its favor in the future.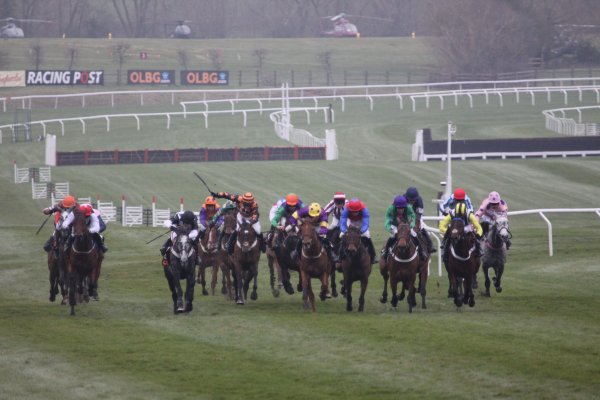 Just about every horse racing course in the UK, Ireland, and even on the all-weather surfaces are different. No two are the same. However, they will have certain qualities that are similar to one or more other courses.
Direction of Travel
Undulating or Flat Surface
Long or Short Run In
Uphill, Flat or Downhill Run in
Tight Bends or More Flowing Turns
Previous Course Winners
Many form readers like to look for previous success or good performances at the course the horse is running for this race. Some will follow blindly if there is previous winning form at the course, and they expect a follow-up
Plainly this is not always the case and a previous win at a course is no guarantee of a similar outcome on this occasion. Indeed, the runner may well run as well if not better than previously, but that winning course form does not take into any account from a form perspective the other runners in the race. So that fact that a win has been achieved is nothing more than one line of analysis to be considered, not for an entire bet to be decided.
Previous Winning Course Form is a positive though, once the validity of that race's form has been checked and verified.
When you see a 'C' in the form guide, this is the abbreviation most often used to indicate a previous win at the same course as the race card today.
You will often see this paired with a 'D' displaying 'CD' next to the horse name. This signifies that not only has the horse win at the course, but also over the same distance as today's race.
So let's look at how important distance is in form reading for horse racing.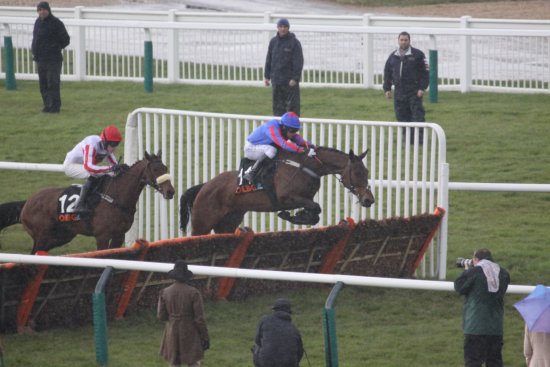 Distance
There are three distinct distances in horse racing, generally packed up as sprints, middle distance, and long distance. Sorinting in jump racing is a very different thing to sprinting on the flat
| Distance | Flat Racing | NH Racing |
| --- | --- | --- |
| 5-7f | Sprints | n/a |
| 8-12f | Middle Distance | n/a |
| 13-16f | Long Distance | Sprinters |
| 17-24f | Very Few Races | Stayers |
| 25f+ | n/a | Marathons |
Weight Carried
The previous form of a racehorse and the analysis and understanding of what it represents and tells you about previous performances is the single most important factor in assessing the chances of a horse in a race in future events.
The only exception to this is information the stable hand that looks after the horse may have as to its current and recent wellbeing. Although they are not that free of sharing this information beyond a very small stable circle.
If you are looking to be as informed as you can possibly be about a horse's chance in a future ever, then reading the horse in question's form along with the form and lines of the other runners in the race is the best way.
the only problem here is if you understand what the form means in relative terms, or even more important if you understand the jargon, terms and abbreviations that are used in form book compilation.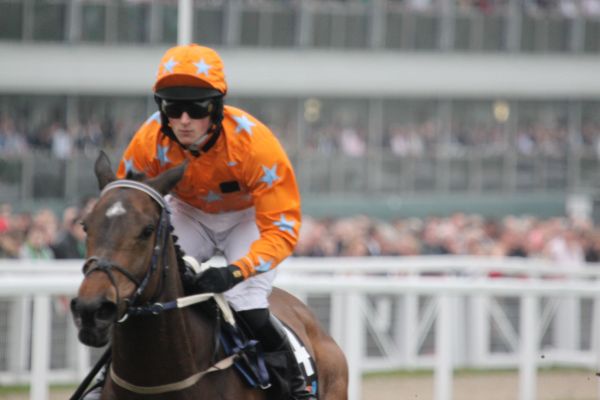 What Information is Available in Racing Form?
There is a good amount of information available from even the most basic of race cards without having delve deep into the rabbit hole of full race horse form.
This is an example of a race card from AtTheRaces. It is a typical display, and I shall go through each of the elements, and explain what each means, its relevance to what you might be looking for and to expand and explain also the abbreviations used, which often cause the most confusion.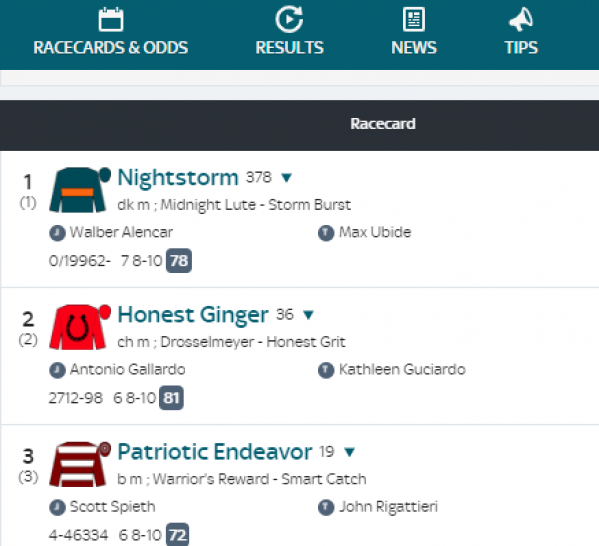 Here we have top of a race card with a few runners with the basic form and information included.
The first number in the top left, is the race card number of the horse - In Nightstorms Case this is Number 1 and the reason it is the first on the card.
After the name we see 378 - This number after the horse name indicates the number of days since it last ran a race.
Below the horse name we have a couple of abbreviations. namely dk-m
This is reference to the colour and sex of the horse
dk =Dark
m = Mare [female]
NOTE: A 'Mare' is a female horse over the age of four whilst a 'Filly' will be a female horse aged 4 or younger.
So, now we have a couple more names. - Midnight Lute - Storm Burst
The order of these names is important and the same whatever race card you will be reading. You are looking at the names of the parents. The first name is the Sire [Father] and the second will be the Brood Mare [Mother]
Below these names you have two more, this time, these are people not horses! The Jockey and the Trainer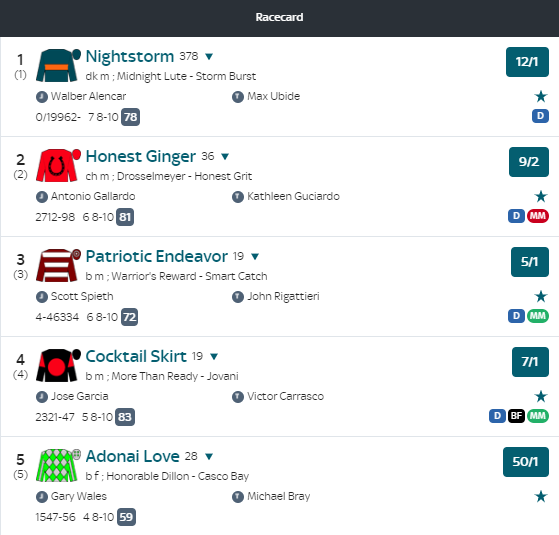 The line at the bottom that includes numbers [and can also include letters] and also dashes or forward slashes is the most recent form
The most recent result will be to the rightmost of the line
Taking Adonai Love at the bottom of the card above, we see 1547-56
This indicates that the last run she finished in 6th position and the run prior to that, in 5th.
Also note the dash before the 5 - This indicates that the run was the first of the season, the dash separating one seasons racing from another. So the last run and finish of last season was a 7th position.
As mentioned, these numbers can also include letters - Please look at the abbreviations section above for more information as to what each of them mean.
Finally, there are a couple more numbers. So following the form figures we have 4 8-10 and 59 in a dark box.
4 indicates the horse age, then 8-10 is the weight that the horse is allocated to carry in the race. 8 Stone 10lbs in imperial measure.
Finally, the number in the dark box is the official rating as applied by the official handicapper.
Using form, such as course form can help you identify good chances at big racing festivals like Cheltenham too
How To See More Than Just The Form